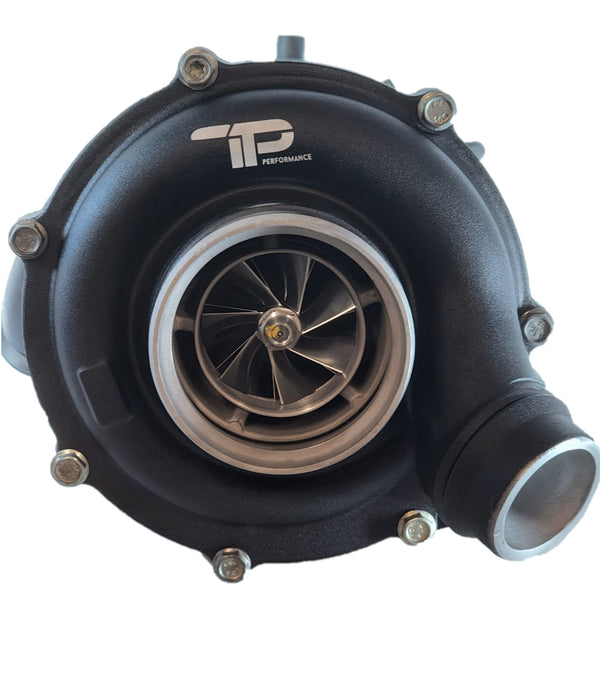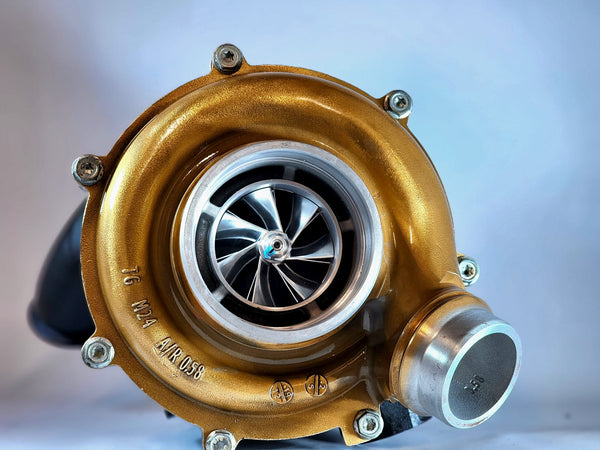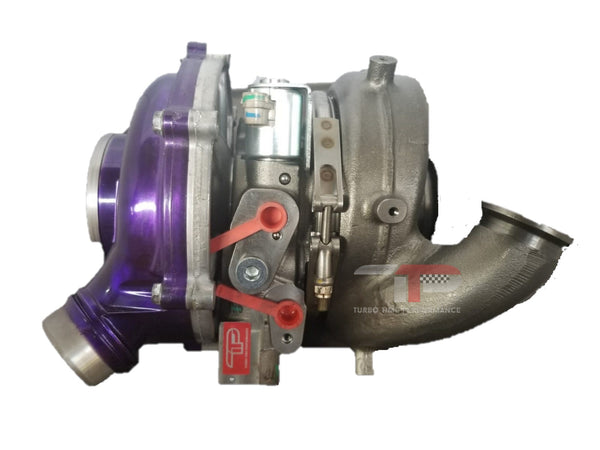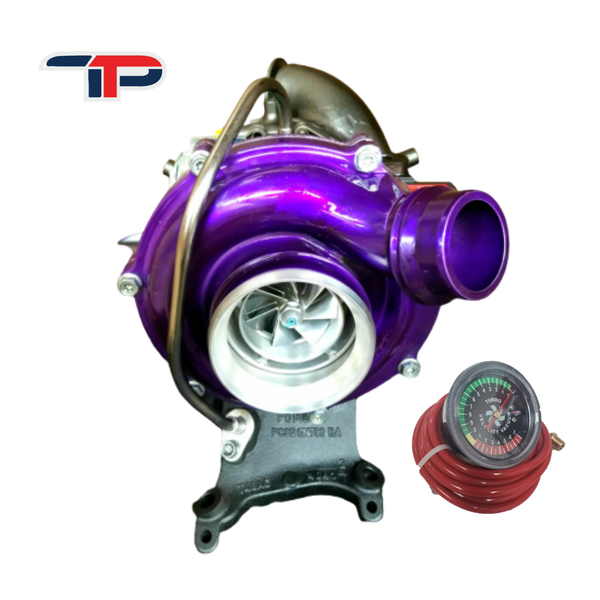 CORE RETURN: GET $400 BACK WITH RETURN OF OEM SALVAGEABLE CORE. (MUST BE 2015-19 MODEL)



Monitor your filter health & performance. Protect your turbo from excessive intake vacuum.
X

treme

P

erformance
DROP IN UPGRADE!
Predator GXR-7 XP Performance Turbocharger! 
Model Years: 
6.7L Ford Powerstroke 2011-2019
P/N: TTP-GPS3-1519 (2015-2019)
2015-2019 - Drop in fit
2015-2017 - May require updated coolant line (
FC3Z9U469B) BACK ORDER
2011-2014 - Retro fit kit required
GARRETT/FOMOCO BRAND
Back & more Xtreme by popular demand! 
Predator GXR-7 Xtreme Performance

 turbo. Support over 700hp for Xtreme Performance & racing while also daily driving as a VGT maintaining factory electronics & exhaust brake! 
What makes it so special?
Compared to the Powermax turbine & common billet wheels used on most VGT upgrades on the market, the GXR-7 XP turbo comes standard with our new

 

XP (Xtreme Performance) 10 blade turbine with a thicker shaft that undergoes additional temperate heat treatment. This enhancement increases stress resistance & durability for more extreme use & racing conditions. The near 66mm 7x7 splitter blade custom billet wheel offers unparalleled performance in flow & boost capacity up to 60 PSI while reducing lag time compared to similar sized "off the shelf" wheels due to it's unique profile. 
For a VGT there is no Competition! 
Our turbo designs are built on Garrett brand platforms as our base to ensure integrity with the most reliability possible. Our GXR wheel series with larger blade surface area & more aggressive profiles produces more volume like a larger wheel aiding in cooler air induction while maintaining consistent boost with quick spool response. Excellent for daily driving, towing, sport/off-road, racing, and even compound setups. Built on authentic Garrett/Fomoco brand platforms for the most quality & reliability!
9 BLADE EXTREME SCREAM TURBINE AVAILABLE ON REQUEST!

Features:

TTP Exclusive 

GXR-7

 

Billet Wheel

XP Turbine (10 Blade)

Original Quality Garrett Turbo Platform 2017-19 version

Advanced Variable Nozzle Turbine (AVNT) 

Integral Electro-Hydraulic Actuation and Proportional Solenoid 

Performance Powder Coating 

Durable 360 Degree Thrust Bearing Upgrade
Exclusive Velocity Port
Supports up to 750RWHP 
Aggressive Sound
Free Core Return

1 Year Unlimited Mile Warranty
 Spec Details:

65.5mm High Velocity Billet Wheel
Heavy Duty XP - 10 Blade Turbine
Supporting up to 60PSI Range
Internal oil feed turbo/pedestal style.
PEDESTAL & OIL LINES NOT INCLUDED
 IMPORTANT NOTE:
*Pedestal NOT included
*High flow air filter/intake required to support airflow demand.
*All models will utilize the Internal oil feed style platform
**Some models may require an updated coolant line. 
**COLORS MAY APPEAR DIFFERENT IN PERSON THAN ONLINE DUE TO LIGHTING & MONITOR SETTINGS**