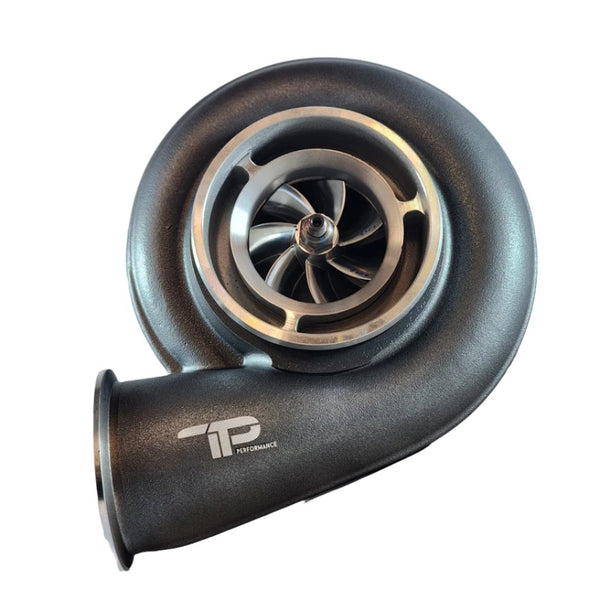 *1 MONTH BACK ORDER CURRENTLY*
AGGRESSIVE STREET PERFORMANCE - DAILY DRIVER MANNERS
PREDATOR GXR-7 BORGWARNER
DODGE CUMMINS 5.9L 
DODGE CUMMINS 6.7L
FORD POWERSTROKE 6.0L
FORD POWERSTROKE 6.7L
-
BUILT ON QUALITY BORGWARNER S400SXE PLATFORM FOR RELIABILITY & DURABILITY. CUSTOM DESIGNED 74MM GXR-7 BILLET COMPRESSOR WHEEL FOR STRONGER & MORE EFFICIENT PERFORMANCE DEMAND OVER THE STOCK WHEEL. QUICKER SPOOL & HIGH FLOW FOR LOWER EGTs & POWER SUPPORT RANGING 750-800HP+. SELECTED EXHAUST A/R FOR SPOOL EFFICIENCY & POWER DELIVERY WHEN YOU NEED IT!

-
THIS TURBO WAS DESIGNED TO PROVIDE BOTH POWER PERFORMANCE & EFFICIENCY THROUGHOUT YOUR ENTIRE RANGE, NOT JUST PEAK HP/TORQUE. WITH THE BEST USABLE STREET PERFORMANCE IN MIND, THIS TURBO YEILDS QUICKER RESPONSE & SMOOTHER POWER DELIVERY THAN OTHER MODELS SIMILARLY SIZED OR EVEN SMALLER. DESIGNED TO PROVIDE THE RESPONSE & EFFICIENCY OF A SMALLER WHEEL WITH THE CAPACITY OF A LARGER WHEEL. 
-
WHEN TESTED BACK TO BACK ON A 6.0L POWERSTROKE WITH A POPULAR BRAND S468 BILLET TURBO & 205/100 INJECTORS; THE PREDATOR GXR-7 S474 YIELDED FASTER RESPONSE BETWEEN 3-500RPM QUICKER WITH A MUCH SMOOTHER BOOST CURVE & POWER DELIVERY.
DYNO RESULTS:
735HP / 1121FTLB (FUEL)
926HP / 1296FTLB (NITRO SHOT)
FEATURES:
CUSTOM DESIGNED 74MM GXR-7 BILLET WHEEL

83MM TURBINE

T4 FLANGE

POWDER COAT

SUPPORT 750-800HP+

OPTIONAL VELOCITY STACK (T51R MOD)
*TUNING REQUIRED FOR OPTIMAL PERFORMANCE. REQUIRES CUSTOM FITMENT/PIPING FOR INSTALLATION.