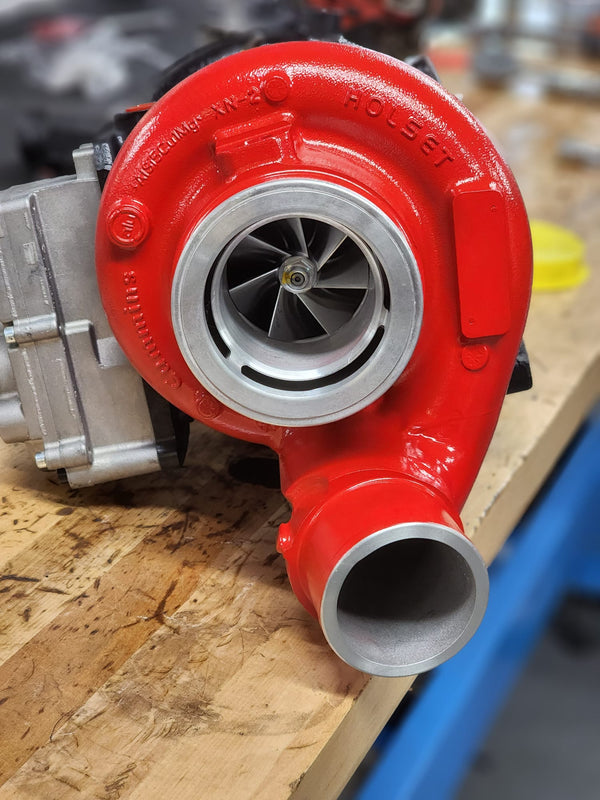 Looking for a OEM replacement turbo option for your 2019-2022 6.7L Cummins?
-
We have the solution!
ORIGINAL HOLSET CUMMINS TURBO
-
AVAILABLE OPTIONS:
STOCK OEM
STAGE 1 HX633
STAGE 2 POWER TOW MAX 64
ACTUATOR OPTIONAL
FREE SHIPPING & FREE CORE RETURN
STAGE 1:
Fitted with our custom designed 63.3mm billet wheel and modified compressor inlet for increased performance support over the stock turbo. No fueling upgrades required. Retains VGT function. Tuning not required, but recommended.
STAGE 2:
Optimized for performance and towing support on stock or increased fueling. Larger custom designed 64.9mm billet wheel, larger 65mm turbine, & modified compressor inlet. Increased power support and exhaust flow over the stage 1 model. Lower EGTs, better torque production, better top end support. Tuning not required, but recommended.
IMPORTANT NOTES:
STOCK COLOR FOR OEM REPLACEMENT. POWDER COAT AVAILABLE ON REQUEST FOR PERFORMANCE UPGRADES.
BEWARE OF SELLERS PROMOTING TURBOS AVAILABLE THAT ARE NON-BRANDED IMPORT COPIES.