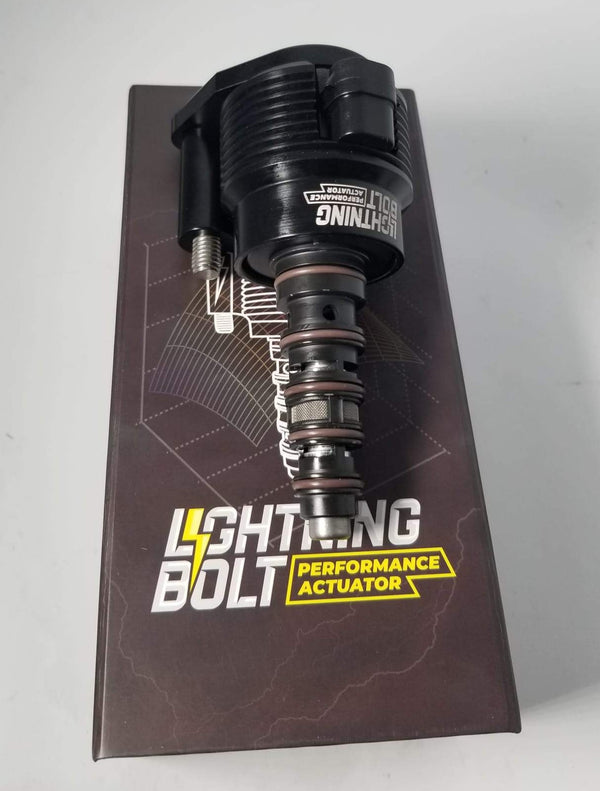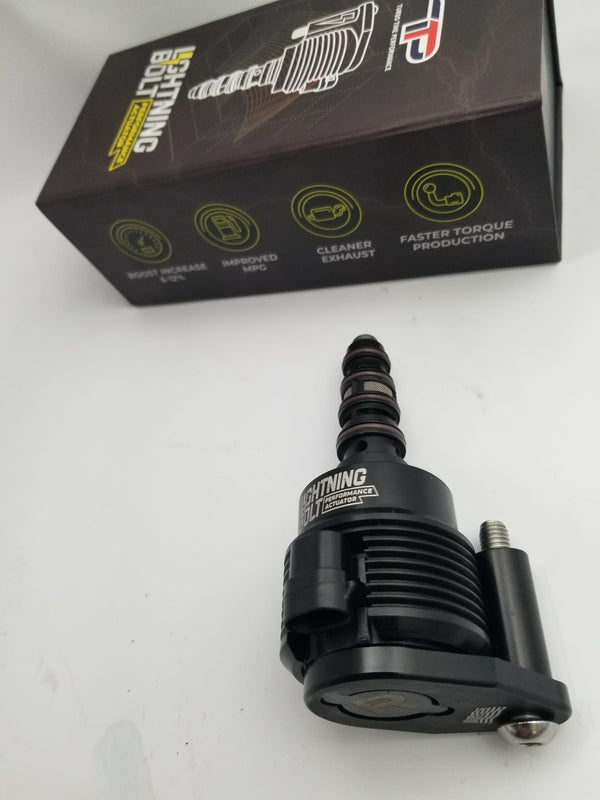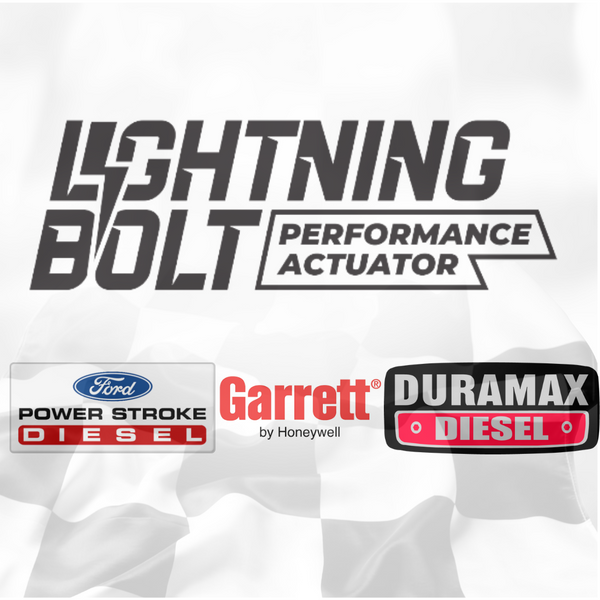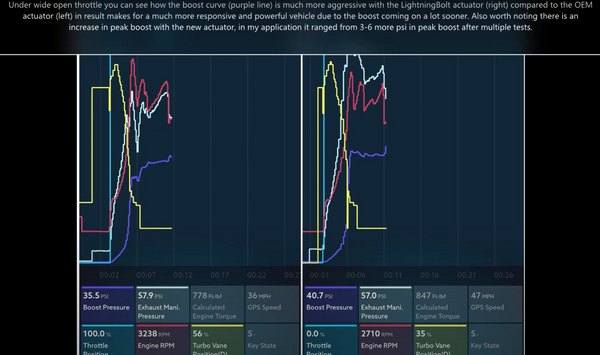 30 DAY RISK FREE MONEY BACK TRIAL
Try it for up to 30 days. If it simply doesn't work with your set up or notice satisfying results, return it for a refund. 15% restock + shipping applies.
Driving a diesel is a different experience and driving style than operating gas-powered vehicles. Power is intended to be predominantly generated by the turbocharger, not simply throttle and rpm, which lowers diesel efficiency and economy while increasing unnecessary strain to the drivetrain.
The Lightning Bolt Solenoid is designed to help you get the most out of your turbo (especially upgraded turbos) and diesel driving experience without artificially manipulating your system to operate more like a gas vehicle. Forcing a diesel to perform more like a gas vehicle is often experienced with products like throttle controllers, modules, or specific tuning that alters VGT vane percentages and/or causes the transmission to regularly downshift raising rpms to achieve power response.
Some of these application combinations may reduce the effective benefits or even conflict with the Lightning Bolt Solenoid operation triggering a CEL.
NOT recommended with products like "pedal commanders" or "throttle boosters" that manipulate throttle system percentages that often yield an artificial "in the seat" response feeling while reducing efficiency. 
NOT recommended with tuning that restricts VGT vane percentage ranges and/or causes the transmission to downshift when applying throttle for demanded response by increasing engine rpm instead of utilizing low-end boost production from the turbocharger in order to generate power as originally intended for diesels.

TUNING - Some tuning especially with emissions may manipulate the vane position percentage range that can conflict with the Lightning Bolt operation which is intended to operate with full range. This can lead to a CEL and trigger codes such as "over-boost" or "exceeding learn limit". 
LIGHTNING BOLT SOLENOID
TTP-LB-VGT-R / TYPE-R
TTP-LB-VGT-S / TYPE-S
ADVANCED TURBINE PERFORMANCE
NOT JUST FOR SPORT/RACING PERFORMANCE - THE LIGHTNING BOLT SOLENOID IS ALSO AN IDEAL APPLICATION FOR:
IF YOU HAVE A LARGER VGT TURBO & WANT SPOOL AS FAST OR FASTER THAN THE STOCK TURBO
IF YOU TOW OFTEN & WANT QUICKER POWER & TORQUE, ESPECIALLY UPHILL
INCREASED FUEL & CLEANING UP YOUR EXHAUST
QUICKER & STRONGER EXHAUST BRAKING
LARGER WHEELS SUFFERING FROM SLOWER ACCELERATION & BOOST
PRODUCT APPROVED AFTER TWO YEARS OF TESTING WITH 3 DIFFERENT TRUCKS: 
6.7 Powerstroke 2017 Stage 2 Performance Turbo - 100000 miles / Heavy Towing Capacity w/ Type R
6.6 Duramax LML Stage 2 Turbo Testing - 54000 Miles
6.0 Powerstroke Stage 2 Testing Type R, Bigger Injectors - 48000 Miles


ENGINEERED & DESIGNED SPECIFICALLY FOR VGT TURBOS:
6.0L POWERSTROKE (2003-2007)
6.7L POWERSTROKE (2015-19 turbos. 2011-14 trucks must have 2015+ turbo)
6.6L DURAMAX (2011-2016)
AFTER INSTALLING YOU CAN SEE:
5-12% BOOST INCREASE
IMPROVED MPG
CLEANER EXHAUST
QUICKER TORQUE PRODUCTION
How To Select The Right Type For You:
*TUNE ALLOCATION MAYBE REQUIRED TO ACCOMODATE BOOST RATES. 
*RECOMMENDED FUEL RANGE (STOCK - 190CC INJECTORS)
*Some recommendations vary based on vehicle applications. It is possible to use either model on varying applications. However, conservative pre-selected recommendations are noted in the chart above.
TYPE-S vs TYPE-R Recommendations:
TYPE-S: Calibrated to retain a stronger resistance rating on the vane system that is ideal for stock applications or with larger upgraded VGT turbos with stock fuel and tuned. Eliminates the laziness of the OEM VGT response and the lag of upgraded turbos. Enhances the low-end torque, boost production and overall performance. 
TYPE-R
: Calibrated with a lower vane resistance rating than the TYPE-S in order to compensate for increased load produced by performance modified trucks. Ideal with fuel injector size upgrades that have either stock or upgraded turbos. Safely enhances the turbo VGT function on applications with larger fuel injectors and performance modifications. Also ideal for most professional towing/hauling services
-
6.7L COMPARISON DATA
3RD PARTY DYNO/DATA TESTING RESULTS
APITUNING: "The Lightning Bolt significantly enhances turbo response."


*Results can vary based on vehicle and application.