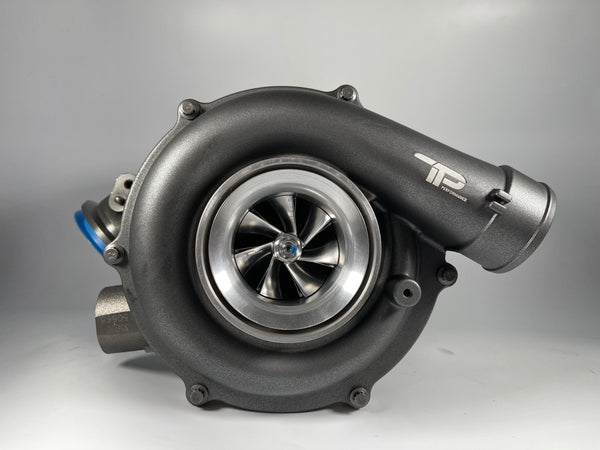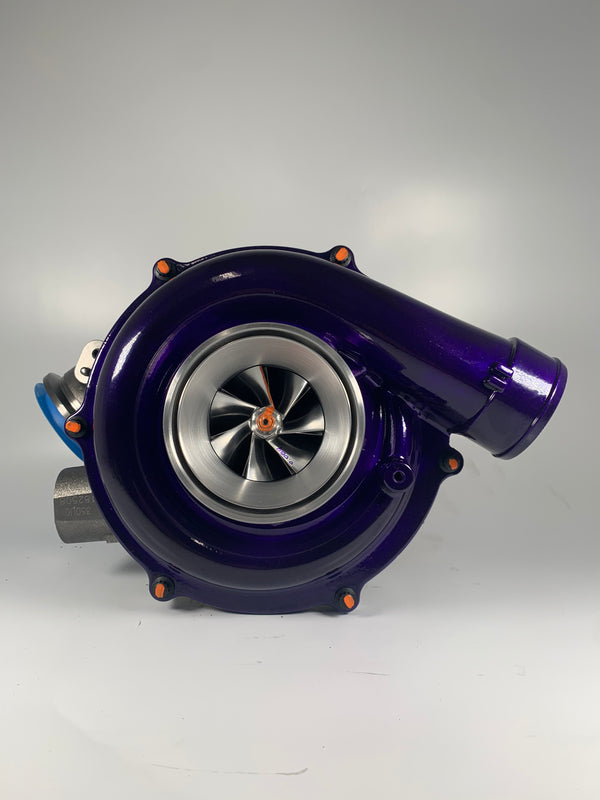 Unmatched Drop in Performance!
Garrett 6.0L Powermax 
Predator

GXR-7

Velocity
 Performance Turbocharger! 
Model Years: 
P/N: TTP-GPP-GXV7-03 (2003)
TTP-GPP-GXV7-47 (2004.5-2007)
2003-2007 6.0L Powerstroke
Engineering went back to the drawing board to make an already amazing turbo design even better! Introducing our all new redesigned Powermax Predator GXR-7 turbo. Our completely new custom Predator turbo is designed to efficiently produce higher airflow capacity like a much larger turbo aiding in cooler air induction while maintaining consistent boost and quick spool response. This carefully designed turbo supports daily driving, towing, sport/off-road, racing, and even compound setups. Help your truck burn fuel more efficiency while lowering EGTs and supporting higher horsepower and torque. The Velocity compressor increases the aggressive sound notes and supports more smoother airflow while reducing turbo bark. Hands down the best drop in Powermax turbo out there, leaving the competition in the dust! 
GXR-7 Model Benefits vs GXR-11: 
More total blades (14)
Quicker spool
Louder sound
Higher boost range
More linear boost
Longer support range
Features:

Newly Designed Exclusive

GXR-7

 

Billet Wheel

Quick Boost Response & Support in Mid-Top Range

Velocity Cover Enhancing Unique Sound & Flow

Maximized Vane System for Max Airflow

Original Quality Garrett Turbo Platform

Advanced Variable Nozzle Turbine (AVNT) 

Integral Electro-Hydraulic Actuation and Proportional Solenoid 

360 Degree Thrust Bearing

Performance Powder Coating 

Installation kit

1 Year Unlimited Mile Warranty

OPTIONAL: 

NEW

 

XP

 (EXTREME PERFORMANCE) TURBINE SHAFT - Thicker stronger spec with tempering heat treat for more extreme operating conditions.
Comp Wheel: GXR-7 65mm Extended tip 7x7 Splitter
Turbine: Powermax 10 Blades
(Complete spec information classified)
Tuning required for optimal performance
Ideal with 175cc+ injectors
-
**COLORS MAY APPEAR DIFFERENT IN PERSON THAN ONLINE DUE TO LIGHTING & MONITOR SETTINGS**